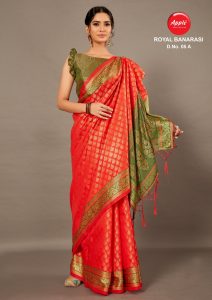 banaras soft silk sarees
A banaras soft silk sarees is a sari made in Varanasi, an ancient city which is also called Benares (Banaras). The saris are among the finest saris in India and are known for their gold and silver brocade or zari, fine silk and opulent embroidery. It has a running blouse and length 6.2 meters. Pure banaras soft silk sarees can be used for dry wash and hand Wash.
Description
banaras soft silk sarees Banarasi silk has its roots deep in the rich history of India. Saree woven from silk is known as Banarasi silk Saree, which is an extremely famous fabric all over India and the world. Originally designed for royalty, Banarasi fabric was designed with pure gold and silver threads, taking more than a year to make. The designing of these comfortable and light in weight fabrics involves in different painstaking steps. Definitely, you like our sarees to wear and love it.
AB & Abi Fashions
Buy again and again from our AB & Abi fashions for very good quality products at competitive prices. You can easily get from our website with more buying options. Enjoy the updated and latest designs. we hope you feel our product and sense of touch with our materials.
banaras soft silk sarees like these you can find all colors of silk sarees. check the link here :
https://ababijobs.com/product-category/women/
For all AB & Abi Fashions products kindly check the following link,
Join us through Facebook and Instagram
Usage
We provide you more collections, all kinds of sarees, salwar, materials, kids' dresses. Thanks for visiting our website. keep shopping with our Ab & Abi Fashions
Always Dry Clean For First Wash. For Subsequent Washes, If Dry Cleaning Is Not Possible, Gentle Hand Wash In Cold Water With Soapnut Or Silk-Suitable Detergent Or Baby Shampoo.
Always Air Dry The Saree In Shade. Never Wring The Sari Or Use It In The Washing Machine Or Dryer. Never Rub The Sari Vigorously.
Do Not Store Silk Without Dry Cleaning
Expose The Silk Fabrics Periodically To Natural Atmosphere
Use Silica Gel Sachet Or Moisture Absorbents In Your Cupboard Which You Use For Storing Silk Fabrics
Iron In Medium Heat Only
ADDITIONAL INFORMATION
| | |
| --- | --- |
| DIMENSIONS | 6.2 M |
| FABRIC | VARANASI SILK |
| BASED ON WORK | HANDLOOM |
| BORDER TYPE | CONTRAST BORDER |
| COLOR | GREEN |
| MATERIAL | SILK |
| OCCASION | SPECIAL |
| PALLU & BLOUSE | SELF MUNDHI |
Returns for banaras soft silk sarees
Within 3 days of receipt of your shipment and send us an unedited opening video file.
A refund will be initiated after we received the product.
Returns/ Exchange accepted only in case of damaged or defective items
In original condition. Unwashed and Unworn