Description
long cotton petticoat for dress or underskirt is an article of clothing, a type of undergarment worn under a skirt or a dress. Its precise meaning varies over centuries and between countries. For formal sarees, a silk or cotton petticoat manufacturer is preferred, especially if your saree is sheer. If you're going for a slim-fit petticoat, then a long cotton petticoat would be the best choice of fabric. Semi and pure fabrics are the two types of fabrics that are available in the market.
measure the long cotton petticoat
Waist: Measure along the waist, make sure it's laying flat on the ground when taking this measurement.
Hip: This is the widest part of the hip, Measurement is taken approximately 7–9 inches.
Length: The length measurement is obtained from the top of the waistline to the bottom of the hemline.
Similar to how you measured the waist, measure the hips from one end to the other as well. Skirt Length – The skirt length is basically how long you want your skirt to be. Place the tip of the measure in the middle of the waist, and drag it till the end of the skirt.

AB & Abi Fashions
AB & Abi Fashions is the best seller in the latest inskirt designs and Other Festive occasion sarees. long cotton petticoat can be used for both machine and hand Wash.
No matter what season it is, you can wear a cotton petticoat in autumn, winter, spring and summer. The soft texture makes it delightful to wear and drape, particularly during the season of summer when everything else feels too hot.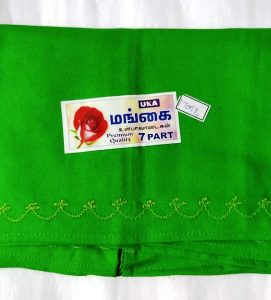 Buy again and again from our AB & Abi fashions for very good quality products at competitive prices. You can easily get from our website with more buying options. Enjoy the updated and latest designs. we hope you feel our product and sense of touch with our materials.
AB & Abi Fashions Pattukottai
cotton petticoat, like these you can find all colors of long cotton petticoat
check the link here : https://ababijobs.com/product-category/women/
For all our products kindly check the following link, https://ababijobs.com/store/
For all AB & Abi Fashions products kindly check the following link,
Join us through Facebook and Instagram
ADDITIONAL INFORMATION
| | |
| --- | --- |
| DIMENSIONS | 105 CM |
| FABRIC | COTTON |
| BASED ON WORK | MACHINE DESIGN |
| BORDER TYPE | EMBROIDERY DESIGN |
| COLOR | YELLOW |
| MATERIAL | SOFT COTTON |
| OCCASION | CASUAL |
| TIED THREAD | AVAILABLE |
Returns for long cotton petticoat
Within 3 days of receipt of your shipment and send us an unedited opening video file.
A refund will be initiated after we received the product.
Returns/ Exchange accepted only in case of damaged or defective items
In original condition. Unwashed and Unworn