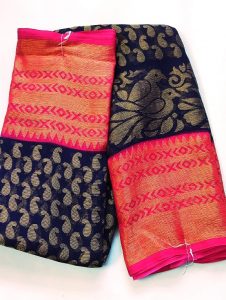 chiffon brasso sarees
chiffon brasso sarees are generally made put of an acid itch process which involves the burning of fabric in order to create a more textured design. This can be applied to all kinds of soft and rich fabrics like tissue, chiffon, silk, velvet. It is beautiful, ornate and looks glamorous on all kinds of Indian ethnic wear. green silk saree feel soft and is the most suitable fabric for the indian air. Ab abi fashions provides you the highest grade cottons to bring you the best handloom experience.
This technique was prevalent in the medieval times and was used to make bridal wear which presented royalty and glamour. Brasso truly defined high end apparel and clothes worn by people who belonged to elite class.
About Brasso
Wispy, soft tissue like fabrics, with gorgeous designs, Brasso sarees are unique designs, in every sense of the word. It is also known as 'burn out fabric' . Brasso has been a great source of craftsman's creative inspiration and also the unique designers across the world.
chiffon brasso sarees feel soft and is the most suitable fabric for the indian air. Ab abi fashions provides you the highest grade cottons to bring you the best handloom experience.
chiffon brasso sarees made in pit looms and shuttle looms of India are also more airy yet strong compared to their machine woven counterparts.
Light Weight Sarees comes from the weaver measuring and working with the right tensile strength on the loom and is a speciality of handloom cotton.
AB & Abi Fashions
AB Abi chiffon brasso sarees , like these you can find all colours of silk brasso sarees with unique designs each. check the link here :
https://ababijobs.com/product-category/women/
For all AB & Abi Fashions products kindly check the following link,
Join us through Facebook and Instagram

Usage
Brasso is a delicate fabric and therefore gentle care as well .
Always dry clean for the first wash. For subsequent washes, if dry cleaning is not possible, gently hand wash in cold water with soapnut or silk-suitable detergent or baby shampoo.
Always air dry the saree in shade. Never wring the sari or use it in the washing machine or dryer. Never rub the sari vigorously.
Do not store silk without dry cleaning
Expose the silk fabrics periodically to natural atmosphere
Use silica gel sachet or moisture absorbents in your cupboard which you use for storing silk fabrics
Iron in medium heat only
Keep the clothes in an airtight box or container is advisable in order to keep the longevity of the fabric, design and colour.
ADDITIONAL INFORMATION
| | |
| --- | --- |
| DIMENSIONS | 6.2 M |
| FABRIC | CHIFFON BRASSO |
| BASED ON WORK | UNIQUE DESIGNS |
| BORDER TYPE | JARI BORDER |
| COLOR | BLUE |
| MATERIAL | CHIFFON BRASSO |
| OCCASION | FESTIVE |
| PALLU & BLOUSE | SELF MUNDHI & BLOUSE |
Returns for chiffon brasso sarees
Within 3 days of receipt of your shipment and send us an unedited opening video file.
A refund will be initiated after we received the product.
Returns/ Exchange accepted only in case of damaged or defective items
In original condition. Unwashed and Unworn
AB Abi Fashions provide you more collections, all kinds of sarees, salwar, materials, kids dresses. Thanks for visiting our website. keep shopping with our AB & Abi Fashions.